College Baseball Live Streaming On ESPN3; LSU, Florida In Action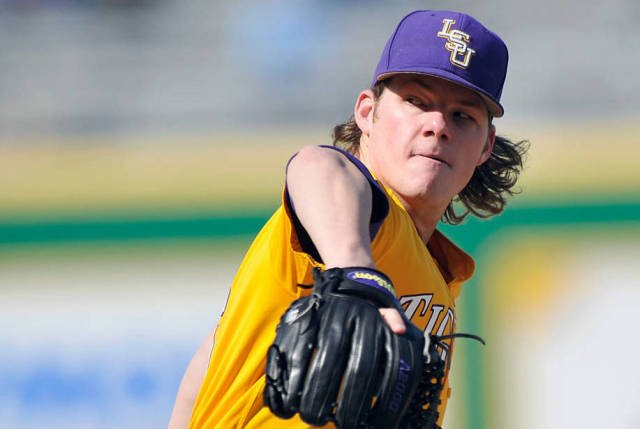 SOUTH BEND, Ind. – No. 13 LSU will take on Notre Dame in one of four NCAA college baseball games streaming live on ESPN 3 on Tuesday night.
The Tigers (31-16), who are ranked No. 17 in this week's official NCAA RPI rankings and No. 11 this week in the Baseball America poll, will open a two-game midweek series against the Fighting Irish and head coach Paul Mainieri, the at Notre Dame coach from 1995-2006, is looking forward to making a return.
"We had 12 tremendous years at Notre Dame, and it's a university that means a lot to me and my family," Mainieri said on LSU's official athletics website.
"It does feel a little strange to be wearing purple and gold in the stadium where I coached for 12 seasons, but I'm an LSU Tiger now.
"My focus is completely upon our team and preparing our players for the most important stretch of the season.
"There are only nine games remaining in the regular season, and there are significant goals within reach if we can finish strong, beginning with these games against Notre Dame."
The teams will meet again in the second game of the series at Frank Eck Stadium on Wednesday.
LSU V NOTRE DAMN INFO
#11 LSU Fighting Tigers (31-16) at Notre Dame Fighting Irish (26-20)
DATES/TIMES
Tuesday, May 10 – 5 p.m. CT (ESPN3)
Wednesday, May 11 – 5 p.m. CT (ESPN3)
STADIUM
Frank Eck Stadium in South Bend, Ind.
RANKINGS
LSU – No. 11 by Baseball America; No. 13 by USA Today; No. 16 by D1 Baseball
ND – unranked
ONLINE
Tuesday– ESPN3, WatchESPN.com
Wednesday – ESPN3, WatchESPN.com
SERIES RECORD
Notre Dame leads LSU, 3-2, in a series that began in 1928. The teams last met in 2012 in Baton Rouge, where Notre Dame posted a 7-1 win over the Irish on March 11.
PITCHING MATCHUP – Tuesday, May 10
LSU – Sr. LHP John Valek III (6-2, 4.36 ERA, 53.2 IP, 7 BB, 41 SO)
ND – Fr. RHP Connor Hock (0-0, 1.42 ERA, 6.1 IP, 2 BB, 1 SO)
In other NCAA college baseball games live on ESPN 3 on Tuesday, No. 3 Miami will entertain Bethune-Cookman, No. 5 Louisville and No. 7 Vanderbilt will battle in a top 10 clash, while No. 6 Florida State travel to Jacksonville and College of Charleston visit No. 24 Clemson.
Meanwhile, No. 1 Florida will take on South Florida, live on the SEC Network.
NCAA Baseball | College Baseball Rankings
5:00 PM No.5 Louisville vs. No. 7 Vanderbilt - ESPNU
6:00 PM No.13 LSU vs. Notre Dame - ESPN3
6:00 PM No.6 Florida State vs. Jacksonville - ESPN3
6:30 PM College of Charleston vs. No.24 Clemson - ESPN3
7:00 PM Troy vs. Auburn - SEC PLUS
7:00 PM Presbyterian vs. No.8 South Carolina SEC PLUS
7:00 PM South Florida vs. No.1 Florida SEC PLUS
7:00 PM Bethune-Cookman vs. No.3 Miami (FL) - ESPN3
7:30 PM Creighton vs. Wichita State ESPN3
Si quieres conocer otros artículos parecidos a College Baseball Live Streaming On ESPN3; LSU, Florida In Action puedes visitar la categoría Latest News.