Elaine Thompson Wins Olympic 100m GOLD!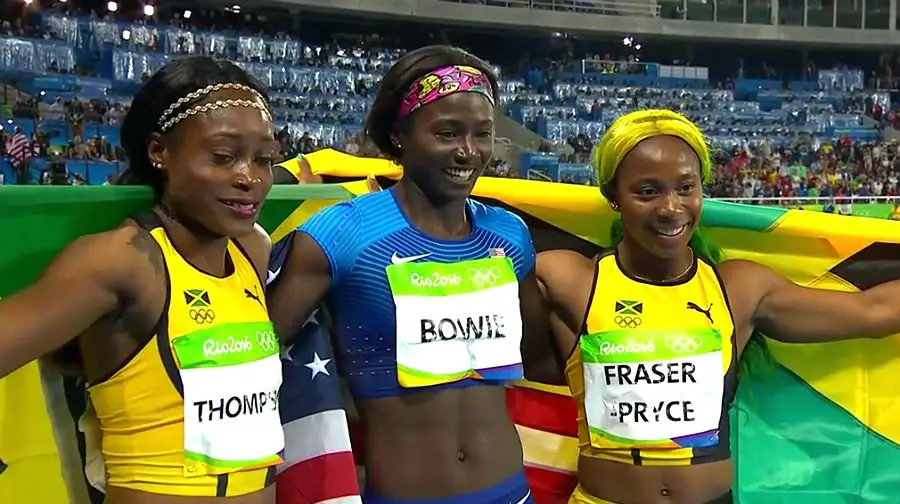 RIO DE JANEIRO, BRAZIL - Elaine Thompson of Jamaica blasted to a stunning time of 10.71 to win the women's 100m at Rio 2016 - dethroning her compatriot and training partner Shelly-Ann Fraser-Pryce, who finished third.
Thompson, who entered the Olympic Games with the fastest time in the world this year, flashed to a time of 10.71 seconds to pull away from the field in the closing metres and win the gold inside the Olympic Stadium on Saturday night.
The 24-year-old finished ahead of American sprinter Tori Bowie, who caught Fraser-Pryce on the line to take the silver in 10.83, while the two-time defending champion took the bronze in 10.86.
The Beijing 2008 and London 2012 Olympic champion ran the same time as Marie-Josee Ta Lou from the Ivory Coast, but got the nod on a photo finish. Ta Lou set a new personal best to finish fourth.
Fraser-Pryce was hoping to win a third successive women's 100m Olympic title, but found her training partner too hot to handle.
European champion Dafne Schippers from the Netherlands, a strong gold medal contender in the pre-Olympic predictions, faded badly to fifth place in 10.90.
Another medal contender, English Gardner of USA, who ran 10.74 at the American Trials, was only fifth in Rio in 10.94 seconds.
Trinidad and Tobago's Michelle-Lee Ahye clocked 10.92secs for sixth place, while Christania Williams of Jamaica slowed down and was last in 11.80.
Great Britain's Mo Farah completed half of his Rio 2016 objectives, after the London 2012 Olympic champion joined the ranks of men who have successfully defended their 10,000m title.
Farah, who recovered from a tumble halfway in the race, after he was accidental clip by his training partner, Galen Rupp of USA, kept his composure and recovered well to run 27:05.17 for the gold medal on Saturday night.
"I thought about all my hard work, and that it could all be gone in a minute," said Farah, who gave Rupp a thumbs-up when the American came back to check on him.
"I wasn't going to let it go. I got up quickly."
Kenya's Paul Tanui, who battle with Farah until the defending champion finally pulled away in the home stretch, picked up second in seasonal best of 27:05.64, while Ethiopia's Tamirat Tola secured the bronze medal in 27:06.26.
In other results, Belgium's 21-year-old Nafissatou Thiam set a national record of 6810 points win the heptathlon and became the first Belgian woman to win an Olympic title since Tia Hellebaut in 2008.
Defending champion Jessica Ennis-Hill took the silver with 6775pts and Canada's world indoor champion Brianne Theisen-Eaton finished with a bronze with a mark of 6653pts.
US champion Jeff Henderson produced a last round effort of 8.38m to snatched the gold medal from South Africa's Luvo Manyonga (8.37m) in the men's long jump.
Defending champion Greg Rutherford of Great Britain was third with an effort of 8.29m.
Si quieres conocer otros artículos parecidos a Elaine Thompson Wins Olympic 100m GOLD! puedes visitar la categoría Leads.