LSU women start title defense at No. 1 in preseason poll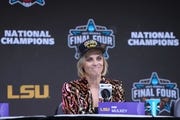 Reigning NCAA champion LSU starts the season at No. 1 for the first time, topping the Associated Press Top 25 preseason poll, released Tuesday.
The Tigers were named No. 1 on 35 of 36 ballots filled out by media nationwide, with perennial contender UConn at No. 2 and with one first-place vote. Trailing them were Iowa, UCLA and Utah.
The Bruins and Utes were two of a leading six teams from the Pac-12, joining Stanford, Colorado, Southern California and Washington State. The Cougars never have been ranked in the preseason poll.
It's a familiar spot for UConn, however, which will welcome back All-American Paige Bueckers, who missed last season with a knee injury. The Huskies have been ranked in the AP poll for 565 consecutive weeks, which ties a record set by late coach Pat Summitt's Tennessee teams.
UConn's has been ranked for 30 years, beginning with the preseason poll of the 1993-94 season.
Rounding out the Top 10 are South Carolina, Ohio State, Virginia Tech, Indiana and Notre Dame.
In all, the Southeastern Conference, Big Ten and Atlantic Coast Conference each have five ranked schools. The Big East and Big 12 have two each.
The remainder of the Top 25:
11. Tennessee
12. Ole Miss
13. Texas
14. Maryland
15. Stanford
16. North Carolina
17. Louisville
18. Florida State
19. Baylor
20. Colorado
21. Southern California
22. Creighton
23. Illinois
24. Washington State
25. Mississippi State
--Field Level Media
Si quieres conocer otros artículos parecidos a LSU women start title defense at No. 1 in preseason poll puedes visitar la categoría College Women.