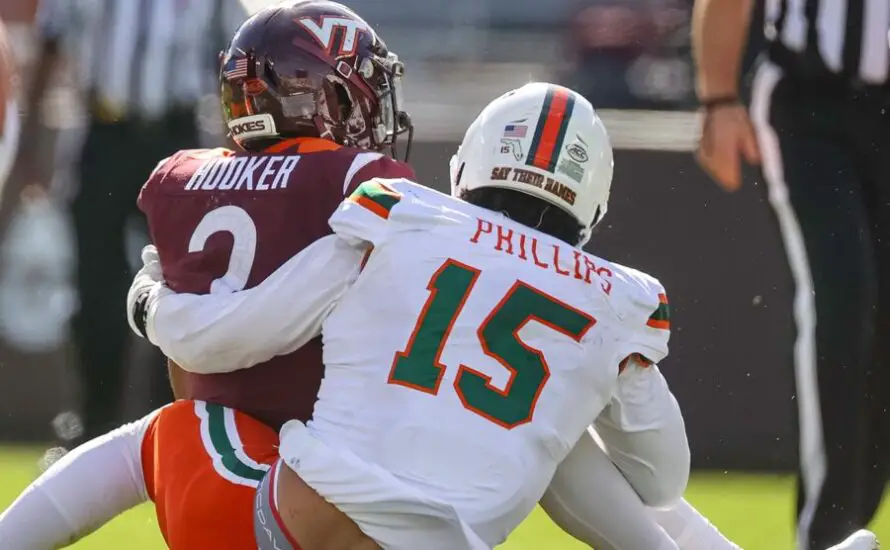 REPORT – No. 9 Miami Hurricanes Hold On For 25-24 Win Over Virginia Tech
BLACKSBURG, Va. – No. 9 Miami scored a come from behind 25-24 victory at Virginia Tech on Saturday to continue its impressive form in the pandemic hit season.
The Hurricanes ((7-1, 6-1 Atlantic Coast Conference) trailed for most of the contest at Lane Stadium before battle their way back from a double-digit deficit to come away victorious in Blacksburg.
"What an effort. The resilience of this team week in and week out is special and it's not shown for the three and a half hours on gameday," Miami Hurricanes head coach Manny Diaz said.
"Some of things that we encountered this week and some of the things that we had to overcome this week just to get here, just to play, and the attitude that our guys kept and the way that they wanted to go play, I'm so proud of them.
"Week in and week out, with all of the adversity that they have to face, they find a way to make it. They play for each other so hard.
Trailing by five with 9:38 left to play, Miami tallied 82 yards from 10 plays to find the end zone and take its first lead of the game when quarterback D'Eriq King found Mark Pope for a 36-yard touchdown to capped the scoring drive.

-Miami's Winning Drive
Miami then held on to its one-point advantage for 5:59 en route to the win.
"Obviously, we had to grind it out," Diaz added. "Offensively, we struggled to protect D'Eriq [King] today, but you know, it's like what we found out last week, defensively, sometimes you are not going to have your 'A' game and you have got to find different ways to win games.
"It's what we've been talking about all year; that is what we are learning how to do and we did it. We made the plays in the fourth quarter when we felt like we would. We've been strong in the fourth quarter all year and we felt like that would be telling and sure enough it was.
"I'm very proud, very proud to be 7-1. All of the credit goes to the players and they've earned it. They've earned what they've got, every bit of it."
King finished 24 of 38 for 255 yards and a touchdown, while adding another score on the ground for Canes. Dee Wiggins had eight catches for 106 yards, while Cam'Ron Harris ran for 63 yards on 14 carries and a score.
"D'Eriq is a great leader. He leads the pack," Wiggins said. "Coming into the fourth quarter, he is always focused. He doesn't change. You always face adversity in a game and he stays focused during every quarter."
Virginia Tech was hoping to bounce back from the 38-35 home defeat to Liberty last week, but came up short in the end again.
Hendon Hooker went 19 of 29 for 202 yards and an interception in the defeat for the Hokies (4-4, 4-3 ACC). The home side was unable to get going on offense in the second half, as the final five drives ended with three punts, an interception, and on downs.
The defeat on Saturday means Virginia Tech Hokies has now lost two straight and three of its past four.
MIAMI HURRICANES PLAYER SPEAKS
"It actually felt great putting the team on my back for a moment like that," Pope said. "[Mike] Harley did it the last time, so I wasn't really shocked by that. I just saw everybody blitzing, King looked at me, gave me a signal and made it happen."
"First of all, I got to give all the credit to Hendon Hooker. I think he's a great quarterback," Phillips said. "I think Virginia Tech is a very dynamic team. We came into the game, game-planning, expecting him to run the ball and for them to get active like that. In the first half, had a couple mistakes. I know I had a couple mistakes. But then just honing in, really just sticking to the game plan and just kind of taking a deep breath and relaxing and playing Canes football like we know how."