CLEVELAND — Kyrie Irving hit a fadeaway jumper with 3.4 seconds left and the Cleveland Cavaliers rallied to beat the Golden State Warriors 109-108 on Christmas Day.
Coming out of an official revision break, Irving hit the go-ahead basket over Klay Thompson and then his teammates played solid defense in the closing seconds for the Cavaliers, who recovered from a 14-point deficit in the fourth quarter.
LeBron James, who scored 15 points in the third quarter, finished with 31 points and tied his season high with 13 rebounds and Irving added 25 points, 10 assists, seven steals and six boards for the Cavs (23-6), who improved to 16-2 at home this season.
Kevin Love contributed 20 points and six rebounds for Cleveland, which rallied from a 3-1 deficit to beat Golden State in the NBA Finals this past summer.
Kevin Durant paced the Warriors with a double-double of 36 points and 15 rebounds and Thompson added 24 points with five 3-pointers.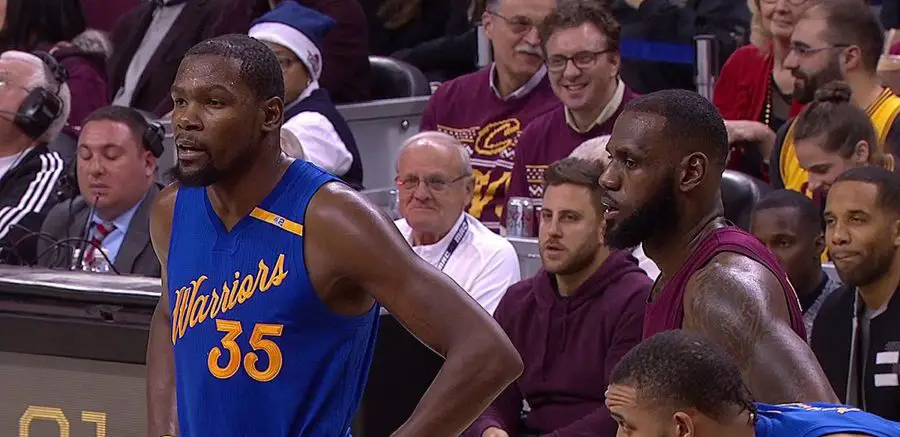 After Irving made the last basket for the Cavs, Golden State had the ball on the last play but Durant lost his balance, fell to the court and couldn't get off a shot before time expired.
Replayed showed that the star forward might have been tripped by Richard Jefferson but no foul was called by the officials.
Draymond Green finished with 16 points and Stephen Curry ended with 15 in the defeat, as the Warriors had their seven-game winning streak snapped.
Golden State led 55-52 at halftime and had an 11 point advantage with 4:23 left in the second quarter.
The Warriors were up 94-80 with 9:35 left in the fourth quarter and led by three points when Curry made a 3-pointer with 1:14 remaining.
However, the visitors were unable to close out the game and the Cavs came back to seal the win on their home court.
It was the 18th meeting in the last 24 months between the two teams that battled in the NBA Finals last season.
They are schedule to meet again on January 16 at Oracle Arena.
NBA Box Score: Download Game Book