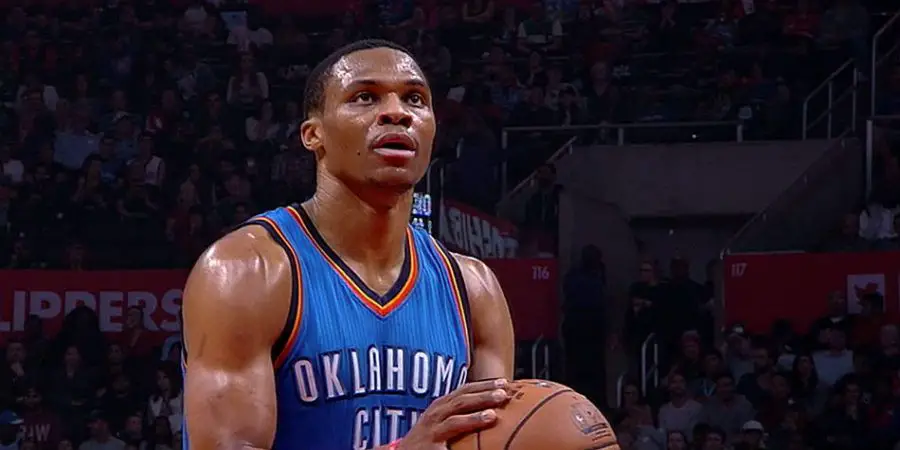 Westbrook Grabs Double-Double; Thunder Beat Timberwolves
THUNDER 112, TIMBERWOLVES 100: Game Box Score
OKLAHOMA CITY, Sporting Alert — Russell Westbrook was unplayable again on Sunday and the Oklahoma City Thunder beat the Minnesota Timberwolves 112-100 at Chesapeake Energy Arena.
Westbrook, who is averaging a triple-double this season, collected 31 points, 15 assists and seven rebounds for Oklahoma City (19-12) in a team-high 33 minutes.
The All-Star point guard who left the game with a little over two minutes remaining, played just six minutes in the fourth quarter, while dishing out 10 of his total assists in the second half.
Westbrook shot 11 of 25 from the floor and made 8 of his 9 attempts from the free throw line.
Steven Adams had 22 points on 9 of 12 shooting to go along with six rebounds and two steals and Enes Kanter added 20 off the bench on 8 of 10 shooting.
"I just go out and have fun," Westbrook said. "I don't know if it's the most fun I've had, but it's definitely at the top because the group of guys we have – everybody is so unselfish.
"Everybody is willing to do great things, and everybody wants to get better."
Adams said: "It was cool. It's cool just getting layups and stuff. It was all Russ. I just finished it off. Can't take credit for that one."
Meanwhile, Karl-Anthony Towns led the Timberwolves with 26 points and eight rebounds and Andrew Wiggins ended with 23.
Zach LaVine scored 16 points and Shabazz Muhammad collected 15 off the bench for Minnesota (9-21), which fell to 5-10 on the road this season.
In the closing minutes of the game, the Oklahoma City fans chanted "MVP! MVP! MVP!" for Westbrook and Minnesota coach Tom Thibodeau believes he's the obvious leader at the moment for the award.
"He's the MVP leader right now, so you've got to try and slow him down," Thibodeau said of Westbrook.
"He draws so much attention – you know we've got to watch out for him. We've just got to stay solid and keep our assignments.
"We broke down a little in the second half."
NEXT UP
The Timberwolves return to the court on Monday night when they host the Atlanta Hawks.
Westbrook and the Thunder are at Miami on Tuesday night.
For more information about the teams visit the Minnesota official team site and the Oklahoma City official team site.