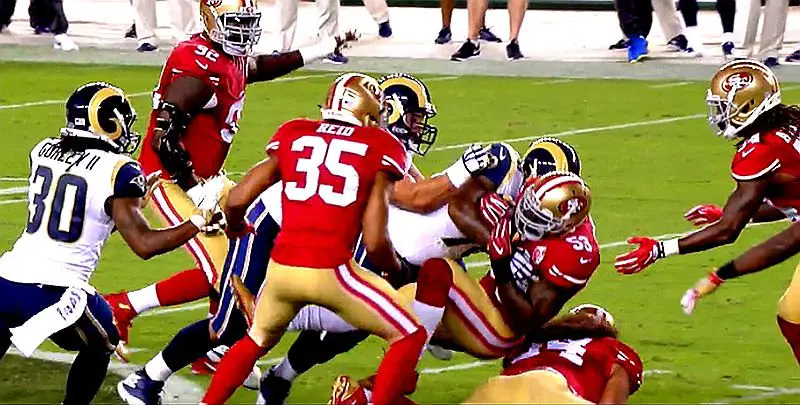 Live NFL TV Channels, Schedule For Week 7: Oct. 23
MIAMI, FL, Sporting Alert – The schedule and TV channels and live streaming listings for National Football League (NFL) games on Week 7, Sunday, October 23.
Early kick-off in Week 7 on Sunday is at 9:30am ET, with the Los Angeles Rams taking on the New York Giants at Twickenham Stadium in London.
The Rams (3-3) are looking to snap a two-game losing streak, while the Giants (3-3) are hoping to kick on again after ending a three-game losing streak with a 27-23 win over the Ravens last time out.
Live coverage of this game will be on the NFL Network, as well as on NFL.com.
Among the games going off at 1:00pm ET are New Orleans at Kansas City, Indianapolis at Tennessee, Minnesota in Philadelphia, and the Jets hosting the Baltimore Ravens.
Also on the list for today, the Miami Dolphins will play the Buffalo Bills at 1:00pm, live on CBS, at the Hard Rock Stadium.
The Washington Redskins hunt their fifth successive victory of the season when they travel to Ford Field to meet the Detroit Lions, who are seeking their third win in a row, live on FOX.
Winless Cleveland Browns are in Cincinnati at Paul Brown Stadium, hoping avoid making a 0-7 start to the season.
Sunday Night Football comes from the U of Phoenix Stadium in Glendale, where the Seattle Seahawks and the Arizona Falcons collide at 8:30pm, live on NBC and streaming on its online and internet platforms as well.
NFL WEEK 7 SCHEDULE AND TV CHANNELS
Sunday, October 23
Live Streaming on NFL.com
New York vs Los Angeles 9:30 AM NFL Twickenham Stadium, London
New Orleans at Kansas City 1:00 PM FOX Arrowhead Stadium
Indianapolis at Tennessee 1:00 PM CBS Nissan Stadium
Minnesota at Philadelphia 1:00 PM FOX Lincoln Financial Field
Cleveland at Cincinnati 1:00 PM CBS Paul Brown Stadium
Washington at Detroit 1:00 PM FOX Ford Field
Oakland at Jacksonville 1:00 PM CBS EverBank Field
Buffalo at Miami 1:00 PM CBS Hard Rock Stadium
Baltimore at New York 1:00 PM CBS MetLife Stadium
Tampa Bay at San Francisco 4:05 PM FOX Levi's Stadium
San Diego at Atlanta 4:05 PM FOX Georgia Dome
New England at Pittsburgh 4:25 PM CBS Heinz Field
Seattle at Arizona 8:30 PM NBC U of Phoenix Stadium, Glendale