ATLANTA — NCAA basketball Top 25 scores and results on Wednesday, as ranked teams continue to fall this week.
No. 5 BAYLOR 65, TEXAS TECH 61
WACO — Johnathan Motley had 25 points and nine rebounds and the fifth-ranked Baylor held out for a 65-61 victory over Texas Tech.
Motley shot just 5-of-12 from the floor but made 15 of his 16 attempts from the free throw line.
Manu Lecomte finished with 10 points and five assists for the Bears (19-1, 7-1 Big 12), who joined the Kansas Jayhawks at the top of the Big 12 conference standings.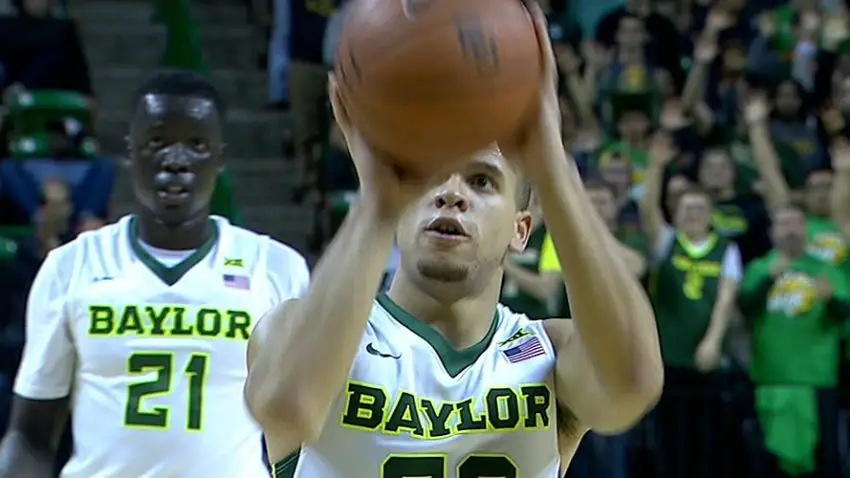 ---
Baylor, which made 26 of 28 free throws and outrebounded Texas Tech 35-25, is 13-0 at home this season.
Aaron Ross scored 14 points to lead the Red Raiders (14-6, 3-5 Big 12), while Justin Gray finished with 12 points and Keenan Evans ended with 10 in the defeat.
GEORGIA TECH 78, No. 6 FLORIDA STATE 56
Georgia Tech jumped out to an early double-digit lead and never trailed en rout to a 78-56 victory over No. 6 Florida on Wednesday night.
Josh Okogie had 35 points and 14 rebounds to record his first career double-double for the Yellow Jackets (12-8, 4-4 ACC), who was winning for the second time against an AP Top 10 team this season.
With his achievement on Wednesday night, Okogie, according to ESPN Stats and Info, becomes just the third Georgia Tech freshman to score 30-plus points twice in the same season, following his career-high 38-point performance vs Tulane on Nov. 26.
Ben Lammers also grabbed a double-double with 18 points and 11 rebounds along with four assists and three blocks, while Quinton Stephens added 13 points and five rebounds for the Yellow Jackets to snap a two-game losing streak.
Dwayne Bacon scored 12 points to lead Florida State (18-3, 6-2 ACC), which never led.
The Seminoles entered the game with back-to-back wins over ranked teams North Carolina and Louisville, but failed to get going in the first half as they trailed by as many as 26 points and shot just 17.1 percent during the opening period.
Georgia Tech totally dominated the nation's sixth-ranked team in the first half to take a 41-15 advantage at halftime.
Florida State tried to make a game out of it in the second half, but the lead was too significant to trim down.
As a team, the Seminoles shot 28.2 percent overall on 20-of-71 shooting and lost the rebounding battle against the Yellow Jackets 53-39.
GEORGETOWN 71, No. 16 CREIGHTON 51
WASHINGTON — Meanwhile, at Verizon Center in Washington, Georgetown handed No. 16 Creighton a second successive defeat in conference play.
L.J. Peak scored 20 points and Rodney Pryor added 18 points, six assists and five rebounds and Georgetown beat Creighton 71-51.
It was the lowest scoring game of the season for the Bluejays (18-3, 5-3 Big East), who looked out of sort again without leading guard Maurice Watson Jr., who is out for the rest of the season with a knee injury.
Jessie Govan finished with 15 points and seven rebounds off the bench for the Hoyas (11-10, 2-6 Big East), who led by as many as 22 points in the second half.
Justin Patton had 20 points, seven rebounds, two blocks and two steals for Creighton, which trailed 39-27 at halftime.
Marcus Foster scored 12 points in the defeat for the Bluejays, who won the rebounding battle 47-36.
Check out more NCAA basketball coverage.
NCAA Basketball Scores: Top 25
Wednesday, Jan. 25 Complete Box Scores
No. 5 Baylor 65, Texas Tech 61
No. 6 Florida State 56, Georgia Tech 78,
No. 16 Creighton 51, Georgetown 71