NCAA Top 25 Basketball TV Channels, Schedule, Stream: Jan. 24
MORGANTOWN, W.V. — No. 2 Kansas travels to No. 18 West Virginia for the highlighted college basketball Top 25 fixture on Tuesday, and you can watch it live on ESPN and stream the coverage on WatchESPN. ESPN3.com will also have Nivea above the rim cam coverage of this fixture.
The other all-AP Top 25 matchup on Tuesday is the clash between No. 12 Virginia vs No. 14 Notre Dame at Purcell Pavilion in South Bend.
At the WVU Coliseum 14,000 seating capacity in Morgantown, West Virginia will aim to take down a third Top 10 team this season when the Mountaineers entertain the visiting second-ranked Kansas.
The Jayhawks (18-1, 7-0 Big 12) have won 18 straight games since losing their season opener to Indiana, but it's West Virginia that starts as 4-point favourite to end KU's long streak.
The Mountaineers (15-4, 4-3 Big 12) are on a two-game skid, following defeats to Oklahoma and Kansas State last week but took down Baylor at home when the Bears were ranked No. 1 earlier this season.
---
Despite the recent hiccups, West Virginia is ranked in the Top 10 in points scored per game (88.3, sixth) and assists per game (17.8, eighth), while there are four players scoring in double figures this season.
Jevon Carter leads the team at 12.0 points per game and he is followed by Esa Ahmad at 11.3, Nathan Adrian at 10.6 and Daxter Miles with 10 points.
West Virginia is fourth in the Big 12 standings, while Kansas, which is undefeated in conference play this season after seven outings, sits No. 1.
Kansas guard Frank Mason III leads the Big 12 in scoring with 20.1 points per game and is second in assists at 5.4 per contest.
Freshman Josh Jackson is scoring 15.1 points per game, which is ranked eighth in league play.
Meanwhile, West Virginia's 88.3 points per game are the best in the Big 12 in scoring offense. KU is putting up 85.4 per game for third.
Meanwhile, No. 12 Virginia and No. 14 Notre Dame will meet in an Atlantic Coast Conference encounter in Indiana.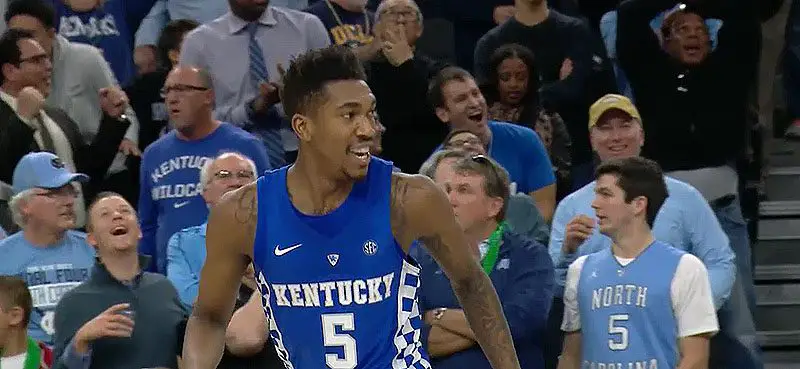 ---
The Cavaliers (15-3, 5-2 ACC) have won four straight, including a 62-49 victory over Georgia Tech on Saturday and they will be hoping to extend that run with another victory on the road.
The Fighting Irish (17-3, 6-1 ACC) recently snapped a four-game losing streak in the series against Syracuse with an 84-66 victory over the Orange on Saturday and have won eight of the last nine games overall.
In other games involving AP Top 25 teams on Tuesday, No. 1 Villanova (19-1, 7-1 Big East) takes on Marquette (13-6, 4-3 Big East), while fourth-ranked Kentucky (17-2, 7-0 SEC) travels to Tennessee (10-9, 3-4 SEC).
---
Elsewhere, No. 13 Louisville (16-4, 4-3 ACC) travels to Pittsburgh (12-7, 1-5 ACC), No. 15 Wisconsin (16-3, 5-1 Big Ten) entertains Penn State (11-9, 3-4 Big Ten) in Madison, while No. 22 Maryland (17-2, 5-1 Big Ten) meets the travelling Rutgers (12-8, 1-6 Big Ten).
For More Check Out Our College Basketball Page | Villanova Stays No. 1 In AP Top 25 In Week 12: Jan. 23
Complete College Basketball: Top 25 Schedule
TV Channels and Streams
Tuesday, January 24
Auburn at No. 23 South Carolina 6:30 PM SECN, WatchESPN
Rutgers at No. 22 Maryland 7:00 PM BTN
No. 20 Purdue at Michigan State 7:00 PM ESPN2, WatchESPN
No. 13 Louisville at Pittsburgh 7:00 PM ESPNU, WatchESPN
No. 2 Kansas at No. 18 West Virginia 7:00 PM ESPN, ESPN3
No. 12 Virginia at No. 14 Notre Dame 8:00 PM ACCN, WatchESPN
No. 1 Villanova at Marquette 8:00 PM FS1
No. 4 Kentucky at Tennessee 9:00 PM ESPN, WatchESPN
Penn State at No. 15 Wisconsin 9:00 PM BTN