Watch Clemson 23 v Florida State 13 Live On ESPN3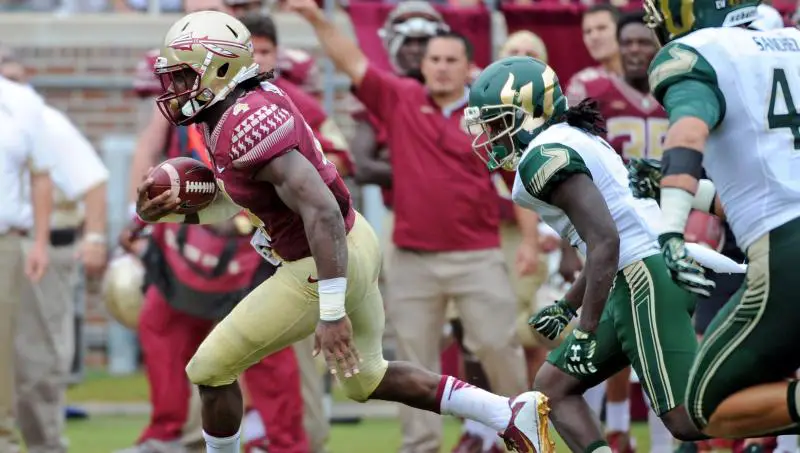 CLEMSON, S.C., Sporting Alert - You can brace yourself for an action-packed contest when No. 1 Clemson will play host to No. 16 Florida State at Memorial Stadium on Saturday.
FIRST QUARTER
FSU
CLEM

TD

14:15

Dalvin Cook 75 Yd Run (Roberto Aguayo Kick)

2 plays, 75 yards, 0:45

7
0

FG

1:15

Greg Huegel 31 Yd Field Goal

7 plays, 44 yards, 2:07

7
3
SECOND QUARTER
FSU
CLEM

FG

10:59

Roberto Aguayo 23 Yd Field Goal

10 plays, 69 yards, 5:16

10
3

FG

0:29

Greg Huegel 25 Yd Field Goal

8 plays, 75 yards, 0:55

10
6
THIRD QUARTER
FSU
CLEM

TD

10:01

Deon Cain 38 Yd pass from Deshaun Watson (Greg Huegel Kick)

7 plays, 80 yards, 2:22

10
13

FG

6:15

Roberto Aguayo 41 Yd Field Goal

8 plays, 46 yards, 3:46

13
13
FOURTH QUARTER
FSU
CLEM

FG

7:23

Greg Huegel 34 Yd Field Goal

11 plays, 75 yards, 4:36

13
16

TD

2:34

Wayne Gallman 25 Yd Run (Greg Huegel Kick)

7 plays, 60 yards, 3:43

13
23
No. 16 Florida State (7-1, 5-1 ACC) at No. 1 Clemson (8-0, 5-0)
When/Where: Saturday, 3:30 p.m./Memorial Stadium (81,500) in Clemson, S.C.
TV/Radio: ABC/Seminole IMG Radio Network (103.1 FM in Tallahassee); Watch Live Broadcast Streaming On ESPN3.com | Follow Live Gamecast and Scoreboard
Team Injury Report:
Clemson – Out: WR Mike Williams, WR Trevion Thompson (concussion), C Zach Riggs, DT Jabril Robinson.
Florida State – Out: DE Lorenzo Featherston (concussion), RT Derrick Kelly (knee), CB Marcus Lewis (concussion), OL Cole Minshew (concussion)
The Tigers (8-0) are undefeated and come into this battle as 10.5-point favourites, but the Seminoles (7-1) are expected to make life difficult for the college football playoffs top-ranked team.
Both ACC outfits have desires to land the conference and the national championship titles this season, which makes this battle a very attractive one.
Clemson, which is scoring 40.0 points per contest, has been one of the dominant teams on both offense and defense this season, so expect the Tigers to put points on the scoreboard.
Florida State is averaging 32.0 points per game so this team will also be busy offensively.
With this in mind, one can only think that the team that plays the best defense will come out on top on Saturday.
The Seminoles are giving up 16.8 points per game on defense, while Clemson is allowing 17.6 - both of which are ranked in the top 20 this season.
The Noles are the underdogs in this matchup, but head coach Jimbo Fisher believes his team is ready to do something special.
"Had a real good week; I liked the week of practice we had," Fisher said. "Guys seemed good and energetic (and) confident in what they're doing.
"I look forward to going up and competing on the road. Good teams got to go and win on the road. Very tough challenge, Clemson is a heck of a team and I look forward to the opportunity to compete against them."
Meanwhile, according to ESPN Stats and Info, the team that comes out on top in this game, usually goes on to play in the ACC Championship game for six successive years.
Interestingly, the report also revealed that the winner of this battle has won the ACC four consecutive years.
Florida State is determined to move back into college football playoff contention after losing once this season, while Clemson is hoping to keep its untouched record going this season.
Si quieres conocer otros artículos parecidos a Watch Clemson 23 v Florida State 13 Live On ESPN3 puedes visitar la categoría College Football News.