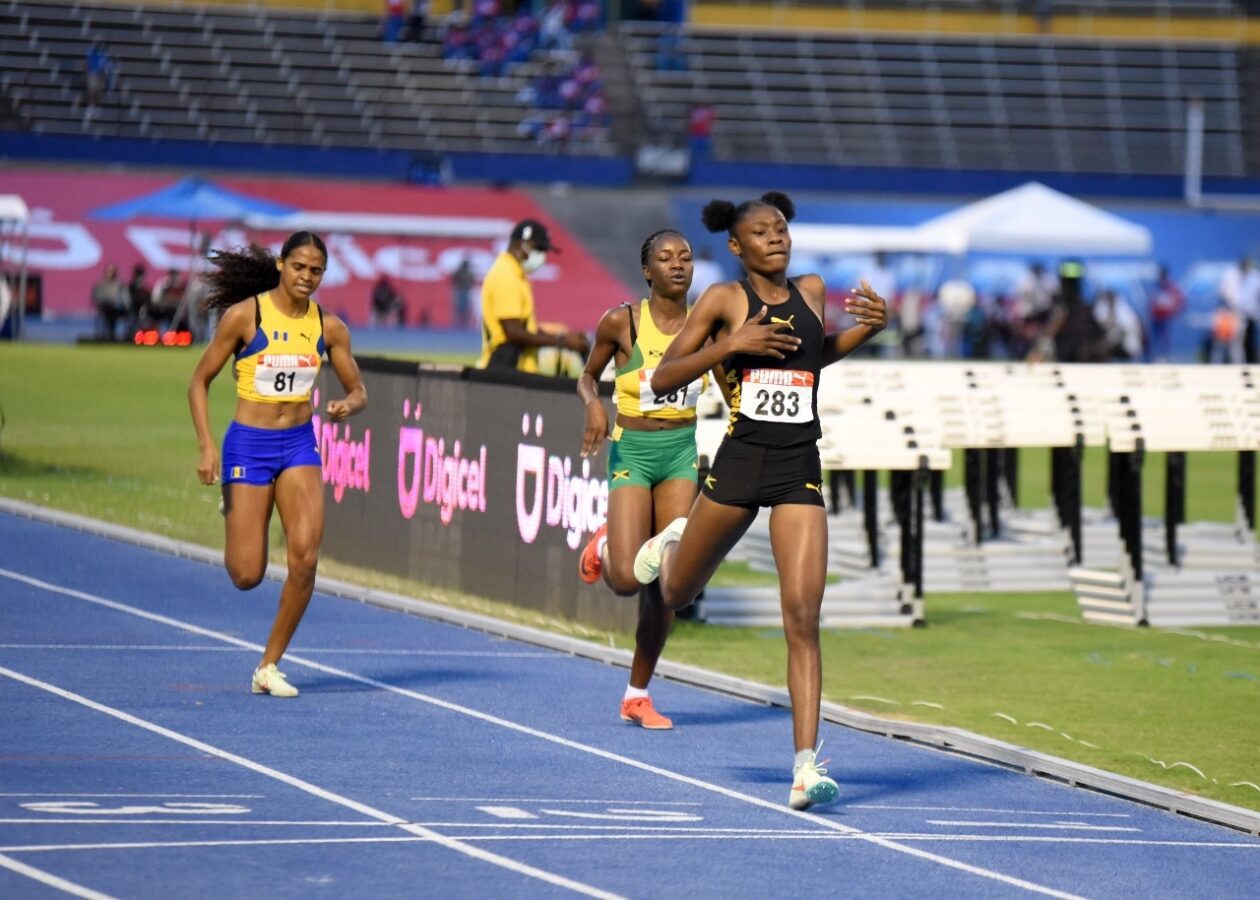 Carifta Games 2022 results from Day 1
Below are the results from finals only after Day One at the Carifta Games 2022 at the National Stadium in Kingston, Jamaica. The hosts are again off to a dominating start after winning nine gold medals on the first day, but there were a lot of other highlighting performances from other countries.
See below for the results from events that were medal events only.
Event 30 Girls Under 17 100 Meter Dash UNDER 17
+++++++++++++++++++++++++++++++++++++++++++++++++++++++++++++++++
DIGICEL
WORLD REC: W 10.49 7/16/1988 FLORENCE GRIFFITHS-JOYNER, USA
WORLD/U20: J 10.88 7/1/1977 MARLIES OELSNER, GDR
WORLD/U18: Y 10.98 6/20/2015 CANDACE HILL, USA
CARIFTA/U20: C 11.03 4/11/1998 ALEEN BAILEY, JAM
CARIFTA/U17: C 11.27 3/31/2018 BRIANA WILLIAMS, JAM
Name Year Team Finals Wind
+++++++++++++++++++++++++++++++++++++++++++++++++++++++++++++++++
Finals
1 Hodge, Adaejah 06 British Virg 11.29 0.5
2 Dorsett, Shatalya 06 Bahamas 11.80 0.5
3 Terrelonge, Theianna Lee 07 Jamaica 11.87 0.5
4 Binger, Camoy 07 Jamaica 11.92 0.5
5 De Gannes, Janae 06 Trinidad and Tobago 12.00 0.5
6 London, Naomi 07 Saint Lucia 12.06 0.5
7 Matthias, Shonte 06 Saint Vincen 12.25 0.5
8 Dowdye, Geolyna 06 Antigua& Barbuda 12.29 0.5
Event 1 Girls 17-19 100 Meter Dash UNDER 20
++++++++++++++++++++++++++++++++++++++++++++++++++++++++++++++++
Sponsor: MIN. OF SPORTS
WORLD REC: W 10.49 7/16/1988 FLORENCE GRIFFITHS-JOYNER, USA
WORLD/U20: J 10.88 7/1/1977 MARLIES OELSNER, GDR
CARIFTA/U20: C 11.03 4/11/1998 ALEEN BAILEY, JAM
Name Year Team Finals Wind
++++++++++++++++++++++++++++++++++++++++++++++++++++++++++++++++
Finals
1 Clayton, Tina 04 Jamaica 11.22 0.6
2 Clayton, Tia 04 Jamaica 11.30 0.6
3 Bascombe, Shaniqua 03 Trinidad and Tobago 11.57 0.6
4 Smith, Keliza 03 Guyana 11.58 0.6
5 Fagan, Rickyla 03 Barbados 11.76 0.6
6 Niles, Kishawna 05 Barbados 11.77 0.6
7 Archer, Paige 05 Bahamas 11.85 0.6
8 Faleme, Laure Anne 03 Guadelope 12.08 0.6
Event 34 Girls Under 17 400 Meter Run UNDER 17
+++++++++++++++++++++++++++++++++++++++++++++++++++++++++++++++++
Sponsor: JPSCo
WORLD REC: W 47.60 10/6/1985 MARITA KOCH, GDR
WORLD/U20: J 49.42 8/27/1991 GRIT BREUER, GER
WORLD/U18: Y 50.01 10/18/1997 LI JUNG, CHN
CARIFTA/U20: C 51.30 4/15/2006 SONITA SUTHERLAND, JAM
CARIFTA/U17: C 53.19 3/31/2018 MEGAN MOSS, BAH
Name Year Team Finals
+++++++++++++++++++++++++++++++++++++++++++++++++++++++++++++++++
Finals
1 Campbell, Abigail 06 Jamaica 53.83
2 McPherson, Narissa 06 Guyana 55.39
3 Walker, Quana 06 Jamaica 55.65
4 Rock, Kadia 07 Barbados 57.69
5 Thomas, Jenna-Marie 08 Trinidad and Tobago 58.39
6 Cumbermatch, S'Nya 08 Bermuda 1:00.23
7 Deguelle, Eden 08 Martinique 1:00.42
8 Placide, Anaelle 08 Martinique 1:03.37
Event 5 Girls 17-19 400 Meter Run UNDER 20
+++++++++++++++++++++++++++++++++++++++++++++++++++++++++++++++++
Sponsor: MALTA
WORLD REC: W 47.60 10/6/1985 MARITA KOCH, GDR
WORLD/U20: J 49.42 8/27/1991 GRIT BREUER, GER
CARIFTA/U20: C 51.30 4/15/2006 SONITA SUTHERLAND, JAM
Name Year Team Finals
+++++++++++++++++++++++++++++++++++++++++++++++++++++++++++++++++
Finals
1 Kelly, Kaylia 03 Jamaica 52.32
2 McAnnuff, Oneika 03 Jamaica 52.52
3 Bobb, Caitlyn 03 Bermuda 53.12
4 Liburd, Kaelyaah 04 British Virg 53.84
5 Eristee, Akrisa 03 British Virg 54.41
6 Patterson, Jamara 04 Grenada 54.90
7 Valcourt, Javonya 04 Bahamas 55.09
8 Reid, Hannah 04 Guyana 55.38
Event 38 Girls Under 17 1500 Meter Run UNDER 17
+++++++++++++++++++++++++++++++++++++++++++++++++++++++++++++++++
Sponsor: WISYNCO
WORLD REC: W 3:50.07 7/17/2015 GENZEBE DIBABA, ETH
WORLD/U20: J 3:51.34 10/18/1997 YINGLAI LANG, CHN
WORLD/U18: Y 3:54.52 10/18/1997 LING ZHANG, CHN
CARIFTA/U20: C 4:27.48 4/10/2009 NATOYA GOULE, JAM
Name Year Team Finals
+++++++++++++++++++++++++++++++++++++++++++++++++++++++++++++++++
Finals
1 Harvey, Attoya 06 Guyana 4:45.75
2 Forde, Kayleigh 06 Trinidad and Tobago 4:52.14
3 Coombs, Kededra 07 Jamaica 4:52.19
4 Peart, Andrene 06 Jamaica 4:52.24
5 Bailey, Aniqah 08 Trinidad and Tobago 4:57.02
6 Grant, Jaeda 08 Bermuda 4:57.14
7 Simmons, Ashlyn 07 Barbados 4:59.81
8 Wightman, Fenella 07 Bermuda 4:59.98
9 Barr, Erin 07 Bahamas 5:00.28
10 Meyers, Mallory 08 Belize 5:02.26
11 Pelti, Lidie 06 Martinique 5:05.00
12 Bakmeyer, Vera-Elise 06 Aruba 5:07.81
13 Lambert, Kirra 06 US Virgin Islands 5:15.48
Event 9 Girls 17-19 1500 Meter Run UNDER 20
+++++++++++++++++++++++++++++++++++++++++++++++++++++++++++++++++
JAMAICA OBSERVER
WORLD REC: W 3:50.07 7/17/2015 GENZEBE DIBABA, ETH
WORLD/U20: J 3:51.34 10/18/1997 YINGLAI LANG, CHN
CARIFTA/U20: C 4:27.48 4/10/2009 NATOYA GOULE, JAM
Name Year Team Finals
+++++++++++++++++++++++++++++++++++++++++++++++++++++++++++++++++
Finals
1 Simms, Rickeisha 05 Jamaica 4:44.18
2 Pryce, Samantha 03 Jamaica 4:44.77
3 Haynes, Layla 05 Barbados 4:45.10
4 Williams, Jonnicia 05 St. Kitts& Nevis 5:25.59
5 Gardiner, Tenesia 05 Turks and Ca 5:29.04
Event 45 Girls Under 17 Shot Put UNDER 17
+++++++++++++++++++++++++++++++++++++++++++++++++++++++++++++++++
Sponsor: SDF
WORLD REC: W 22.63m 6/7/1987 NATALYA LISOVKAYA, URS
WORLD/U20: J 20.54m 7/1/1989 ASTRID KUMBERMUSS, GDR
CARIFTA/U20: C 15.75m 3/30/2002 CLAUDIA VILLENUEVE, MRQ
CARIFTA/U17: C 14.51m 3/31/2018 THAMERA MANETTE, MRQ
Name Year Team Finals
+++++++++++++++++++++++++++++++++++++++++++++++++++++++++++++++++
Finals
1 Joseph, Savianna 06 British Virg 13.54m
2 Burrell, Nastassia 06 Jamaica 13.10m
3 McCoy, Terrell 08 Bahamas 13.00m
4 Mackey, Annae 06 Bahamas 12.37m
5 Shaw, Dionjah 07 Jamaica 12.07m
6 Winter, Peyton 08 Trinidad and Tobago 12.02m
7 Brown, Mikayla 07 Cayman Islands 10.69m
8 Porter, Camerin 06 Cayman Islands 9.19m
Event 26 Girls 17-19 Triple Jump UNDER 20
+++++++++++++++++++++++++++++++++++++++++++++++++++++++++++++++++
Sponsor: MASSY
WORLD REC: W 15.74m 3/20/2022 YULIMAR ROJAS, VEN
WORLD/U20: J 14.62m 8/25/1996 TEREZA MARINOVA, BUL
CARIFTA/U20: C 13.40m 4/3/2015 YANIS DAVID, GUD
Name Year Team Finals Wind
+++++++++++++++++++++++++++++++++++++++++++++++++++++++++++++++++
Finals
1 Hudson, Kayssia 04 French Guiana 12.34m 0.9
2 Pinnock, Jo-Anna 03 Jamaica 12.13m 0.3
3 Dyett, Alyssa 05 Antigua& Barbuda 12.04m 0.1
4 Clarke, Kay-Lagay 04 Jamaica 11.82m 0.6
5 Pulcherie, Amely 05 French Guiana 11.62m -0.4
Event 43 Girls Under 17 High Jump UNDER 17
+++++++++++++++++++++++++++++++++++++++++++++++++++++++++++++++++
Sponsor: MALTA
CARIFTA/U20: C 1.87m 4/1/2013 JEANELLE SCHEPER, LCA
CARIFTA/U17: C 1.85m 4/3/2010 AKEELA JONES, BAR
Name Year Team Finals
+++++++++++++++++++++++++++++++++++++++++++++++++++++++++++++++++
Finals
1 Noble, Danielle 07 Jamaica 1.73m
2 Vincent, Tenique 08 Trinidad and Tobago 1.65m
3 Morton, Jah'kyla 07 British Virg 1.60m
4 Paul, Gianna 06 Trinidad and Tobago 1.60m
4 McKay, Asia 07 Jamaica 1.60m
6 McMaster, A'Sia 07 British Virg 1.50m
7 Adderley, Koi 06 Bahamas 1.50m
7 Renel, Alexia 07 Martinique 1.50m
BOYS RESULTS
Event 31 Boys Under 17 100 Meter Dash UNDER 17
+++++++++++++++++++++++++++++++++++++++++++++++++++++++++++++++++
WORLD REC: W 9.58 8/16/2009 USAIN BOLT, JAM
WORLD/U20: J 9.97 6/13/2014 TRAYVON BROMELL, USA
WORLD/U18: Y 10.13 6/17/2021 GODSON OKE OGHENEBRUME, NGR
CARIFTA/U20: C 10.11 4/7/2007 YOHAN BLAKE, JAM
CARIFTA/U17: C 10.34 4/7/2007 DEXTER LEE, JAM
Name Year Team Finals Wind
+++++++++++++++++++++++++++++++++++++++++++++++++++++++++++++++++
Finals
1 Fleming, Dwayne 06 Antigua& Barbuda 10.72 0.5
2 Card, Gary 07 Jamaica 10.75 0.5
3 Rolle, Ishmael 08 Bahamas 10.77 0.5
4 Davis, Keo 06 Saint Vincen 10.82 0.5
5 Gordon, Shaquane 06 Jamaica 10.88 0.5
6 Russell, Jamario 06 Trinidad and Tobago 11.02 0.5
7 Tucker, Denver 06 Bermuda 11.06 0.5
— Brown, Andrew 07 Bahamas DNF 0.5
Event 35 Boys Under 17 400 Meter Run UNDER 17
+++++++++++++++++++++++++++++++++++++++++++++++++++++++++++++++++
Sponsor: PUMA
WORLD REC: W 43.03 8/14/2016 WAYDE VAN NIEKERK, RSA
WORLD/U20: J 43.87 9/28/1988 STEVE LEWIS, USA
WORLD/U18: Y 44.84 6/8/2019 JUSTIN ROBINSON, USA
CARIFTA/U20: C 45.02 4/3/2010 KIRANI JAMES, GRN
CARIFTA/U17: C 47.33 3/30/2002 USAIN BOLT, JAM
Name Year Team Finals
+++++++++++++++++++++++++++++++++++++++++++++++++++++++++++++++++
Finals
1 Rose, Marchino 06 Jamaica 48.41
2 White, Tajh-Marques 06 Jamaica 48.82
3 Morris, Kaiyin 06 Trinidad and Tobago 49.01
4 Miller, Zion 06 Bahamas 49.36
5 Munnings, Berkley 06 Bahamas 49.63
6 Williams, Kyle 06 Trinidad and Tobago 50.43
7 Gardiner, Osei 06 Antigua& Barbuda 50.78
8 Thomas, Daron 06 St. Kitts& Nevis 51.50
Event 6 Boys 17-19 400 Meter Run UNDER 20
+++++++++++++++++++++++++++++++++++++++++++++++++++++++++++++++++
Sponsor: MASSY
WORLD REC: W 43.03 8/14/2018 WAYDE VAN NIEKERK, RSA
WORLD/U20: J 43.87 9/28/1988 STEVE LEWIS, USA
CARIFTA/U20: C 45.02 4/3/2010 KIRANI JAMES, GRN
Name Year Team Finals
+++++++++++++++++++++++++++++++++++++++++++++++++++++++++++++++++
Finals
1 Kennedy, Delano 04 Jamaica 46.66
2 Palmer, Shemar 03 Jamaica 46.97
3 Glasgow, Amal 04 Saint Vincen 47.06
4 Walrond, Ross 03 Barbados 47.36
5 Parris, Josiah 05 Barbados 48.19
6 Andrews, Antoine 03 Bahamas 48.35
7 Sumner, Cyril 04 Trinidad and Tobago 48.67
8 Smith, Shamar 04 Bahamas 49.34
Event 39 Boys Under 17 1500 Meter Run UNDER 17
+++++++++++++++++++++++++++++++++++++++++++++++++++++++++++++++++
Sponsor: KONNEXX
WORLD REC: W 3:26.00 7/14/1998 HACHIM EL GUERROUJ, MAR
WORLD/U20: J 3:28.81 7/18/2014 RONALD KWEMOI, KEN
WORLD/U18: Y 3:33.72 8/18/2006 NICHOLAS KIPTANUI KEMBOI, K
CARIFTA/U20: C 3:47.56 4/11/2009 GAVYN NERO, TTO
CARIFTA/U17: C 4:00.04 4/7/2007 THEON O'CONNOR, JAM
Name Year Team Finals
+++++++++++++++++++++++++++++++++++++++++++++++++++++++++++++++++
Finals
1 Sriskandarajah, Keeran 06 Trinidad and Tobago 4:10.58
2 Roberts, Javon 07 Guyana 4:12.54
3 Bowen, Yoshane 06 Jamaica 4:13.15
4 Lawson, Tyrone 07 Jamaica 4:13.54
5 Armstrong, Fynn 06 Barbados 4:14.18
6 Meyers, Daniel 06 Belize 4:17.67
7 Dabian, Yeshua 06 Aruba 4:26.56
8 Brison, Carlos 08 St. Maarten 4:34.15
9 Mornal, Mickael 08 Guadelope 4:34.81
10 Meyers, Demetrie 08 Belize 4:40.02
Event 10 Boys 17-19 1500 Meter Run UNDER 20
+++++++++++++++++++++++++++++++++++++++++++++++++++++++++++++++++
Sponsor: WORLD ATHLETICS
WORLD REC: W 3:26.00 7/14/1998 HIUCHAM EL GUERROUJ, MAR
WORLD/U20: J 3:28.81 7/18/2014 RONALD KWEMOI, KEN
CARIFTA/U20: C 3:47.56 4/11/2009 GAVYN NERO, TTO
Name Year Team Finals
+++++++++++++++++++++++++++++++++++++++++++++++++++++++++++++++++
Finals
1 Blake, J'Voughnn 05 Jamaica 4:00.04
2 Nethersole, Adrian 04 Jamaica 4:01.45
3 Llanos, Troy 03 Trinidad and Tobago 4:01.47
4 Mitchell, Curtis 03 Bahamas 4:01.70
5 Ambriton, Nellie 04 Saint Vincen 4:06.92
6 Caines, Alexander 04 St. Kitts& Nevis 4:10.35
7 Blasczyk, Augustin 04 Martinique 4:13.38
8 Hayward, Simeon 05 Bermuda 4:20.41
9 Crooks, James 04 Cayman Islands 4:25.81
10 Giel, John 05 Aruba 4:30.16
11 Davis, Neo Lucien 04 Dominica 4:32.51
Event 19 Boys 17-19 High Jump UNDER 20
+++++++++++++++++++++++++++++++++++++++++++++++++++++++++++++++++
Sponsor: KONNEXX
WORLD REC: W 2.45m 7/27/1993 JAVIER SOTOMAYOR, CUB
WORLD/U20: J 2.37m 8/12/1990 DRAGUTIN TOPIC, YUG
CARIFTA/U20: C 2.22m 4/17/2017 JERMAINE FRANCIS, SKN
Name Year Team Finals
+++++++++++++++++++++++++++++++++++++++++++++++++++++++++++++++++
Finals
1 Antoine, Aaron 04 Trinidad and Tobago 2.16m
2 Pottinger, Brandon 04 Jamaica 2.14m
3 Sam, Verrol 03 Saint Vincen 2.00m
4 Ryan, Uroy 04 Saint Vincen 1.95m
4 Gardner, Josh 05 Cayman Islands 1.95m
6 Farquharson, Stephan 04 Bahamas 1.90m
7 Codling, Xavier 04 Jamaica 1.85m
— Watson, Stephen 05 Cayman Islands NH
Event 29 Boys 17-19 Discus Throw UNDER 20
+++++++++++++++++++++++++++++++++++++++++++++++++++++++++++++++++
Sponsor: NACAC
WORLD/U20: J 70.13m 5/24/2008 MYKYTA NESTERENKO, UKR
Name Year Team Finals
+++++++++++++++++++++++++++++++++++++++++++++++++++++++++++++++++
Finals
1 Lawrence, Kobe 04 Jamaica 60.77m
2 Young, Christopher 03 Jamaica 54.30m
3 James, Jaden 03 Trinidad and Tobago 52.28m
4 Opponge-Adjei, Tayjo 03 Turks and Ca 49.26m
5 Douglas, Orlando 04 British Virg 46.52m
6 Bristol, De'Andre 05 Grenada 46.28m
7 Walkin, Antwon 05 Turks and Ca 45.02m
8 Baptiste, Jethro 04 Bahamas 42.72m
9 Hinds, Kevon 03 Barbados 42.19m
10 Calder, Jaylon 05 Grenada 40.52m
11 Lim, Gabriel 03 Guyana 37.40m
12 Smikle, Andre 05 British Virg 28.64m
Event 15 Boys 17-19 Javelin Throw UNDER 20
+++++++++++++++++++++++++++++++++++++++++++++++++++++++++++++++++
Sponsor: SPORTSMAX
WORLD REC: W 98.48m 5/25/1996 JAN ZELEZNY, CZE
WORLD/U20: J 86.48m 7/23/2016 NEERAJ CHOPRA, IND
CARIFTA/U20: C 78.28m 3/28/2016 ANDERSON PETERS, GRD
Name Year Team Finals
+++++++++++++++++++++++++++++++++++++++++++++++++++++++++++++++++
Finals
1 Strachan, Keyshawn 03 Bahamas 79.89mC
2 Diaz, Anthony 03 Trinidad and Tobago 63.69m
3 Thomas, Cameron 04 Grenada 60.80m
4 Young, Christopher 03 Jamaica 58.84m
5 Charles, Dorian 05 Trinidad and Tobago 58.84m
6 Zervos, Nathaniel 04 Bahamas 56.85m
7 Lim, Gabriel 03 Guyana 53.27m
8 Teka, Jaeden 03 Grenada 51.51m
9 Daniel, Peterson Raphael 05 Dominica 48.21m
10 Joseph, Roobentz 04 Turks and Ca 39.31m
11 Satahoo, Marlon 05 Cayman Islands 39.11m
12 Willett, Akadianto 04 St. Kitts& Nevis 39.04m
13 Bain, Travardo 04 Turks and Ca 38.49m