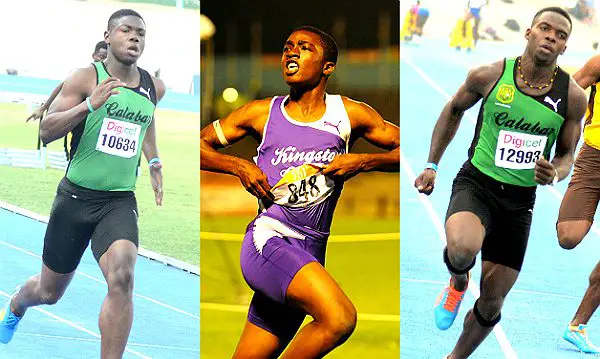 Listen Live Audio Stream of Champs 2015 Day 3 Schedule
KINGSTON, Jamaica (Sporting Alert) — Day three of the 2015 ISSA/Grace Kennedy Boys and Girls Championships continues at the National Stadium in Kingston, on Thursday.
Another full day is on the schedule for the championships, as the title leaders battle things out for precious points and the chasers seek to limit their chances.
Jamaica College and Hydel High head into the third day of competition with the lead and will be hoping to build on that foundation, although the likes of Calabar and Kingston College are expected to step things up on the boys' side, while Edwin Allen and Vere Technical High are expected to raise the bar on the girls' side on Thursday.
Six finals are set to be decided today with the Class Three High Jump, the Class Two Long Jump and the Class Four Long Jump are the finals on schedule for the girls.
For the boys, the Class One Discus Throw, Class Two Shot Put and Class Three High Jump are the events to be decided on Thursday.
Also today, the opening rounds of the 100 metres for all classes will get underway, as well as the semi-finals of the 200m dashes.
After last night's exciting preliminaries in the 4x100m sprint relays, the 4×400 metres relay OPEN will take center stage today.
Also on the list of events on the schedule are the 800m semis, the Class One girls Long Jump qualifying rounds, the 5000 metres open preliminary round, as well as the conclusion of the boys Decathlon Open.
Women Scores – Team Rankings – 3 Events
1) Hydel High 26; 2) Edwin Allen High 22; 3) Vere Technical High 10; 3) Excelsior High 10; 3) Holmwood Technical High 10; 6) Buff Bay High 9; 7) St. Elizabeth Technical High 6; 8) St. Jago High 5; 8) Immaculate Conception High 5; 10) Convent of Mercy Alpha 3; 11) Ardenne High 2; 11) Wolmer's High School for Girls 2; 13) St. Hugh's High 1
Men Scores – Team Rankings – 3 Events
1) Jamaica College 28; 2) Calabar High 16; 3) Cornwall College 11; 4) Holmwood Technical High 9; 5) St. Jago High 8; 6) Kingston College 7; 6) Wolmer's High School for Boys 7; 6) Edwin Allen High 7; 9) Bellefield High 5; 10) St. Andrew Technical High 4; 11) Mavis Bank High 3; 11) Ardenne High 3; 13) Old Harbour High 2; 14) St. Elizabeth Technical High 1
Schedule of Events on Day 3
Starts at 8:15 AM
8:15 am #38 Decathlon: #6 Boys 14-19 110 metre Hurdles Finals
8:30 am #75 Girls 10-12 High Jump CLASS 4 Prelims
8:30 am #60 Girls 15-16 Discus Throw CLASS 2 Prelims
8:30 am #49 Girls 17-18 Long Jump CLASS 1 Prelims
8:30 am #65 Girls 13-14 1500 metre CLASS 3 Prelims
8:40 am #21 Boys 14-15 Shot Put CLASS 2 BOYS Prelims
8:50 am #27 Boys 10-13 1500 metre CLASS 3 BOYS Prelims
9:15 am #55 Girls 15-16 1500 metre CLASS 2 Prelims
9:35 am #16 Boys 14-15 1500 metre CLASS 2 BOYS Prelims
10:00 am #45 Girls 17-18 1500 metre CLASS 1 Prelims
10:00 am #38 Decathlon: #7 Boys 14-19 Discus Throw Finals
10:10 am #5 Boys 16-19 1500 metre CLASS 1 BOYS Prelims
10:45 am #71 Girls 10-12 100 metre Dash CLASS 4 Prelims
10:50 am #31 Boys 10-13 Long Jump CLASS 3 BOYS Prelims
10:50 am #68 Girls 13-14 High Jump CLASS 3 Finals
11:15 am #61 Girls 13-14 100 metre Dash CLASS 3 Prelims
11:40 am #51 Girls 15-16 100 metre Dash CLASS 2 Prelims
12:00 pm #83 Girls 13-19 Javelin Throw OPEN Prelims
12:10 pm #41 Girls 17-18 100 metre Dash CLASS 1 Prelims
2:00 pm MEDAL PRESENTATION Long Jump Classes 1&2 Boys Shot Put Class 2 Girls Steeple Chase Boys and Girls Discus Throw Class 1 Girls
2:00 pm #36 Boys 16-19 Triple Jump CLASS 1 Prelims
2:05 pm #19 Boys 14-15 High Jump CLASS 2 BOYS Prelims
2:10 pm #38 Decathlon: #8 Boys 14-19 Pole Vault Finals
2:15 pm #23 Boys 10-13 100 metre Dash CLASS 3 BOYS Prelims
2:45 pm #12 Boys 14-15 100 metre Dash CLASS 2 BOYS Prelims
3:15 pm #1 Boys 16-19 100 metre Dash CLASS 1 BOYS Prelims
3:15 pm #11 Boys 16-19 Discus Throw CLASS 1 BOYS Finals
3:25 pm #76 Girls 10-12 Long Jump CLASS 4 Finals
3:45 pm #64 Girls 13-14 800 metre CLASS 3 Semis
3:55 pm #26 Boys 10-13 800 metre CLASS 3 BOYS Semis
4:10 pm MEDAL PRESENTATION
4:20 pm #54 Girls 15-16 800 metre CLASS 2 Semis
4:30 pm #15 Boys 14-15 800 metre CLASS 2 BOYS Semis
4:45 pm #44 Girls 17-18 800 metre CLASS 1 Semis
4:55 pm #4 Boys 16-19 800 metre CLASS 1 BOYS Semis
5:00 pm #21 Boys 14-15 Shot Put CLASS 2 BOYS Finals
5:10 pm #30 Boys 10-13 High Jump CLASS 3 BOYS Finals
5:20 pm #32 Boys 14-19 5000 metre OPEN Prelims
5:50 pm #59 Girls 15-16 Long Jump CLASS 2 Finals
5:55 pm #38 Decathlon: #9 Boys 14-19 Javelin Throw Finals
6:00 pm MEDAL PRESENTATION High Jump Class 3 Girls
6:15 pm #72 Girls 10-12 200 metre Dash CLASS 4 Semis
6:25 pm #62 Girls 13-14 200 metre Dash CLASS 3 Semis
6:35 pm #24 Boys 10-13 200 metre Dash CLASS 3 BOYS Semis
6:45 pm #52 Girls 15-16 200 metre Dash CLASS 2 Semis
6:55 pm MEDAL PRESENTATION Long Jump Class 4 Girls Shot Put Class 2 Boys High Jump Class 3 Boys Discus Class 1 boys
7:10 pm #13 Boys 14-15 200 metre Dash CLASS 2 BOYS Semis
7:20 pm #42 Girls 17-18 200 metre Dash CLASS 1 Semis
7:30 pm #2 Boys 16-19 200 metre Dash CLASS 1 BOYS Semis
7:50 pm #79 Girls 13-19 4×400 metre Relay OPEN Prelims
8:20 pm #34 Boys 14-19 4×400 metre Relay OPEN Prelims
8:55 pm #38 Decathlon: #10 Boys 14-19 1500 metre Run Finals