MIAMI, FL – College football Week 11 schedule, game times, television and live streaming coverage for the Saturday, November 10. You don't want to miss any of the action this weekend, regardless of the matchup.
The hunt for College Football Playoff places will again be on the line when this weekend's set of fixtures go off. Watch live streaming and television action on WatchESPN, ESPN3, ESPN2, ESPN, Fox Sports 1, SEC Network, Big Ten Network and more.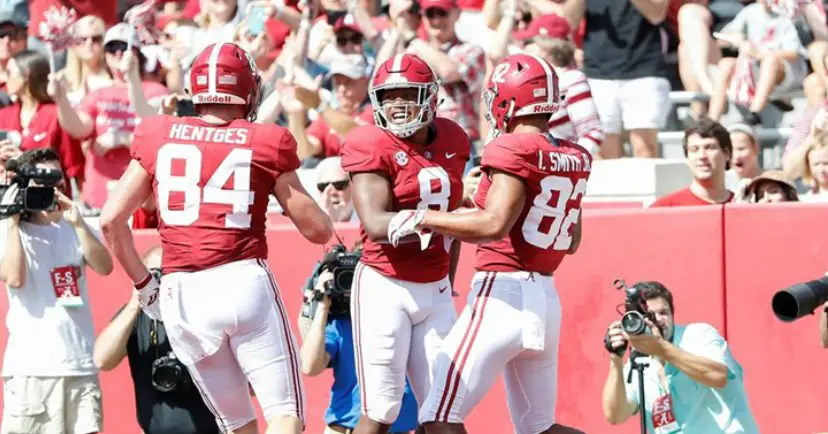 ---
No. 2 Clemson, No. 10 Ohio State and No. 5 Georgia are the among the high-profile teams that simply cannot afford to lose this weekend, as it could very well damage their respective chances of making the Top 4.
At the Spartan Stadium in East Lansing, the Buckeyes (8-1, 5-1 Big Ten) will play No. 18 Michigan State (6-3, 4-2 Big Ten).
A victory for Ohio State would keep them in the College Football Playoff hunt, although Urban Meyer's team currently trail Michigan by one game in the Big Ten East standings. Defeat will more than likely diminish the Buckeyes' chances of making the Top 4.
ESPN's Football Power Index in giving the travelers a 60 percent chance of beating Michigan State, which won two straight.
---
Meanwhile, No. 2 Clemson (9-0, 6-0 ACC) will travel to Chestnut Hill to face-off with No. 17 Boston College (7-2, 4-1 ACC) at Alumni Stadium.
The Tigers are undefeated this season, although not playing at their best every week, but should be able to tick another box at the end of this weekend.
Clemson comes in with an 89 percent chance of winning its 10th straight game this season, according to ESPN's Football Power Index, but the Eagles are expected to present a challenge at home.
Meanwhile, No. 5 Georgia is back in the College Football Playoff conversations after rebounding from the defeat to LSU almost a month ago.
Back-to-back wins over No. 9 ranked teams have helped the Bulldogs (8-1, 6-1 SEC) climb up the rankings, but Saturday's game against No. 24 Auburn at Sanford Stadium in Athens, could present a test.
Georgia certainly cannot afford to lose at home Auburn, as a second loss would rationally eliminate them from the playoff.
Elsewhere on Saturday, No. 1 Alabama (9-0, 6-0 SEC) takes on No. 16 Mississippi State (6-3, 2-3 SEC) at home, No. 3 Notre Dame (9-0) hosts the underachieving Florida State (4-5), No. 4 Michigan (8-1, 6-0 Big Ten) hosts Rutgers (1-8, 0-6 Big Ten) at HighPoint.com Stadium Piscataway, while No. 6 Oklahoma (8-1, 5-1 Big 12) and Kyler Murray will entertain in-state rival Oklahoma State in Norman.
Saturday, November 10
Matchup Time (ET) TV and Live Streaming
TCU at No. 9 West Virginia 12:00pm FS1/FoxSportsGo.com
No. 10 Ohio State at No. 18 Michigan State 12:00pm FOX/FoxSportsGo.com
Navy at No. 12 UCF 12:00pm ESPN2/WatchESPN
South Carolina at No. 15 Florida 12:00pm ESPN/WatchESPN
Wisconsin at No. 20 Penn State 12:00pm ABC/WatchESPN
Tulsa at Memphis 12:00pm ESPNU/WatchESPN
Ole Miss at Texas A&M 12:00pm CBS
Illinois at Nebraska 12:00pm BTN
Kansas at Kansas State 12:00pm FSN/FoxSportsGo.com
Lafayette at Army 12:00pm CBSSN
Maryland at Indiana 12:00pm BTN
Akron at Eastern Michigan 12:00pm ESPN3
BYU at UMass 12:00pm ES/NESN
SMU at UConn 12:00pm ESPN3
Vanderbilt at Missouri 12:00pm SECN/WatchESPN
North Carolina at Duke 12:20pm Raycom Sports
Troy at Georgia Southern 1:00pm ESPN+
UCLA at Arizona State 2:00pm Pac-12N
Charlotte at Marshall 2:30pm ESPN+
Bowling Green at Central Michigan 3:00pm ESPN+
Liberty at Virginia 3:00pm RSN/ESPN3
Middle Tennessee at UTEP 3:00pm ESPN+
No. 16 Mississippi State at No. 1 Alabama 3:30pm CBS
No. 4 Michigan at Rutgers 3:30pm BTN
Oklahoma State at No. 6 Oklahoma 3:30pm ABC/WatchESPN
No. 8 Washington State at Colorado 3:30pm ESPN/WatchESPN
No. 11 Kentucky at Tennessee 3:30pm SECN/WatchESPN
Northwestern at No. 21 Iowa 3:30pm FOX/FoxSportsGo.com
Baylor at No. 22 Iowa State 3:30pm FS1/FoxSportsGo.com
New Mexico at Air Force 3:30pm CBSSN
North Texas at Old Dominion 3:30pm ESPN3
Purdue at Minnesota 3:30pm ESPN2/WatchESPN
Virginia Tech at Pitt 3:30pm ESPNU/WatchESPN
Appalachian State at Texas State 4:00pm ESPN3
East Carolina at Tulane 4:00pm ESPNews/WatchESPN
San Jose State at Utah State 4:00pm Facebook
Arkansas State at Coastal Carolina 5:00pm ESPN+
Georgia State at Louisiana 5:00pm ESPN+
ULM at South Alabama 5:00pm ESPN+
WKU at Florida Atlantic 5:00pm Facebook
Oregon at Utah 5:30pm Pac-12N
No. 24 Auburn at No. 5 Georgia 7:00pm ESPN/WatchESPN
FIU at UTSA 7:00pm ESPN+
Miami (FL) at Georgia Tech 7:00pm ESPN2/WatchESPN
Rice at LA Tech 7:00pm ESPN+
Temple at Houston 7:00pm CBSSN
USF at Cincinnati 7:00pm ESPNU/WatchESPN
Florida State at No. 3 Notre Dame 7:30pm NBC/NBCSports.com
No. 7 LSU at Arkansas 7:30pm SECN/WatchESPN
No. 19 Texas at Texas Tech 7:30pm FOX/FoxSportsGo.com
Southern Miss at UAB 7:30pm beIN SPORTS
No. 2 Clemson at No. 17 Boston College 8:00pm ABC/WatchESPN
Oregon State at Stanford 9:00pm Pac-12N
Colorado State at Nevada 10:30pm ESPNU/WatchESPN
UNLV at San Diego State 10:30pm ESPN2/WatchESPN
California at USC 10:30pm ESPN/WatchESPN