LAWRENCE, Kan., Sporting Alert – College basketball Top 25 fixtures and ESPN3 schedule for Tuesday, January 3.
College Basketball Games To Watch
Three Top 10 teams are in action on the day in addition to one ranked v ranked fixture at Assembly Hall in Bloomington.
No. 3 Kansas (12-1) will look to add to its 6-0 record at home this when it host Kansas State (12-1) in what should be an entertaining contest at Allen Fieldhouse in Lawrence.
The Jayhawks have won 12 straight since losing to Indiana in the season opener and they and beat TCU 86-80 to start Big 12 play Friday night.
Kansas State held off Texas 65-62 in its Big 12 opener on Friday night and heads into the battle with their state rival on a seven-game win streak.
Back in Allen Fieldhouse, it's game day! #SunflowerShowdown pic.twitter.com/fWFilselBq

— Kansas Basketball (@KUHoops) January 3, 2017
Four Wildcats players are scoring in double figures this season, led by Barry Brown, who is averaging 12.1 points per game.
Wesley Iwundu is at 11.9 points, D.J. Johnson is scoring 11.8 and Kamau Stokes is averaging 10.7 per game.
For Kansas, Frank Mason III is averaging 19.8 points per game, while freshman Josh Jackson is scoring 14.7 points and rebounding the ball 6.2 times per outing this season.
KENTUCKY, WEST VIRGINIA FAVOURITES
The other two Top 10 teams in action on Tuesday night are No. 6 Kentucky and No. 7 West Virginia.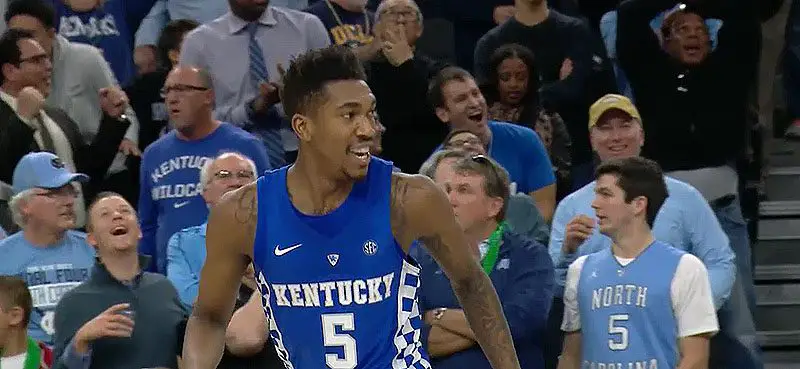 The Wildcats (11-2) is entertaining Texas A&M at Rupp Arena in Lexington, aiming to add to its 39 wins in the last 40 games as a Top-10 program at home.
Freshman Malik Monk leads Kentucky in scoring at 22.4 points per game and De'Aaron Fox is averaging 15.6 per contest.
Isaiah Briscoe is scoring 15.5 and Edrice Adebayo is at 13.5 points and 7.7 rebounds this season.
The Aggies (8-4) are coming off a 73-63 defeat to Tennessee on Thursday night in their SEC opener.
Texas A&M lost two of the last three games.
West Virginia (12-1) will take on Texas Tech at United Supermarkets Arena in Lubbock.
The Mountaineers have won eight successive games entering this matchup and eased to a 92-75 victory over Oklahoma State on Friday in their Big 12 opener.
Texas Tech suffered a 63-56 defeat to Iowa State on Friday but has won eight of the last night games overall.
Elsewhere, No. 14 North Carolina will visit Clemson at Littlejohn Coliseum searching for its eight-straight win over the Tigers and an 18th win across the last 19 meetings overall.
The Tar Heels are coming off a 75-63 defeat over Georgia Tech in ACC play on Saturday.
No. 13 Wisconsin and No. 25 Indiana will meet Bloomington.
College Basketball Top 25 and ESPN3 Schedule
Tuesday, January 3
Buffalo at Toledo 6:00 PM ESPN3
Ole Miss at No. 24 Florida 7:00 PM ESPNU, WatchESPN
No. 13 Wisconsin at No. 25 Indiana 7:00 PM ESPN, WatchESPN
No. 14 North Carolina at Clemson 7:00 PM ESPN2, WatchESPN
UNC Asheville at Liberty 7:00 PM ESPN3
Bowling Green at Akron 7:00 PM ESPN3
Central Michigan at Eastern Michigan 7:00 PM ESPN3
Northern Illinois at Miami (OH) 7:00 PM ESPN3
Western Michigan at Ohio 7:00 PM ESPN3
Middle Georgia St Jacksonville 7:00 PM ESPN3 Swisher
Texas A&M at No. 6 Kentucky 9:00 PM ESPN, WatchESPN
Kansas State at No. 3 Kansas 9:00 PM ESPN2, WatchESPN
No. 7 West Virginia at Texas Tech 9:15 PM ESPNN, WatchESPN