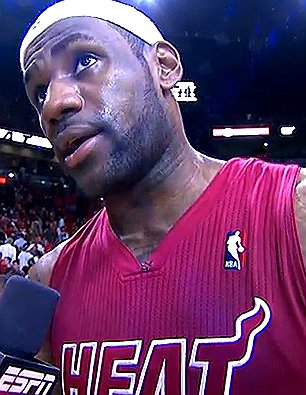 MIAMI, FL (Sporting Alert) — The following are the live NBA games and TV channels for the fixtures on Sunday Jan. 26.
The action begins with a repeat of last season's NBA finals between the San Antonio Spurs and the Miami Heat at AmericanAirlines Arena. Live coverage will be on ABC, starting at Noon ET.
Dwyane Wade took part in practice on Saturday after missing Miami's last four games with his sore knees and the club says he will be a game-time decision for Sunday.
The Heat beat San Antonio to win the NBA title last season and LeBron James is looking forward to meeting the Western Conference giants again.
"It brings back some memories, and it was one of the greatest finals the NBA has ever seen," James said. "But we understand it is a regular season game, and not a finals game."
Spurs will be without key defensive player Kawhi Leonard (broken finger), while Tiago Splitter (sprained shoulder) and Danny Green (fractured finger) are all ruled out with injuries as well.
Also on Sunday and live on ABC, Carmelo Anthony, fresh off his career-high and Knicks franchise record 62 performance in the 125-96 win over the Charlotte Bobcats, will lead New York against the struggling Los Angeles Lakers.
Live coverage from Madison Square Garden is at 3:30 PM ET.
Elsewhere, Paul Pierce and Kevin Garnett return to Boston, with the Brooklyn Nets, which have won its last four games and nine of its last 10 games overall.
The Celtics, which have suffered defeats in four of the last five contests, will be hoping to bounce back from the 101-83 defeat suffered against the Oklahoma City Thunder on Friday.
Boston is 5-18 in their last 23 games and could find the going tough again on Sunday against an on form Nets side.
Live Streaming of this game will be on WatchESPN and TV coverage on ESPN, with tip-off at 6:30 PM ET.
Sunday, January 26
Full NBA TV Channels and Live Stream Coverage on Jan. 26
San Antonio at Miami 1:00 PM ABC
LA Lakers at New York 3:30 PM ABC
Brooklyn at Boston 6:30 PM CSNN, ESPN, WatchESPN
Orlando at New Orleans 6:00 PM FSFL Fox Sports New Orleans
Phoenix at Cleveland 6:00 PM FSAZ FSOH
Detroit at Dallas 7:30 PM FSDT FSSW
Portland at Golden State 9:00 PM CSNN CSNB
Denver at Sacramento 9:00 PM ALT KXTV