LAS VEGAS — The long wait is now over and millions are now gathering themselves to watch what is slated to be the fight of the century when Floyd Mayweather and Manny Pacquiao meet at the MGM Grand in Las Vegas on Saturday (May 2).
Floyd Is Ready to Box Like There Is No Tomorrow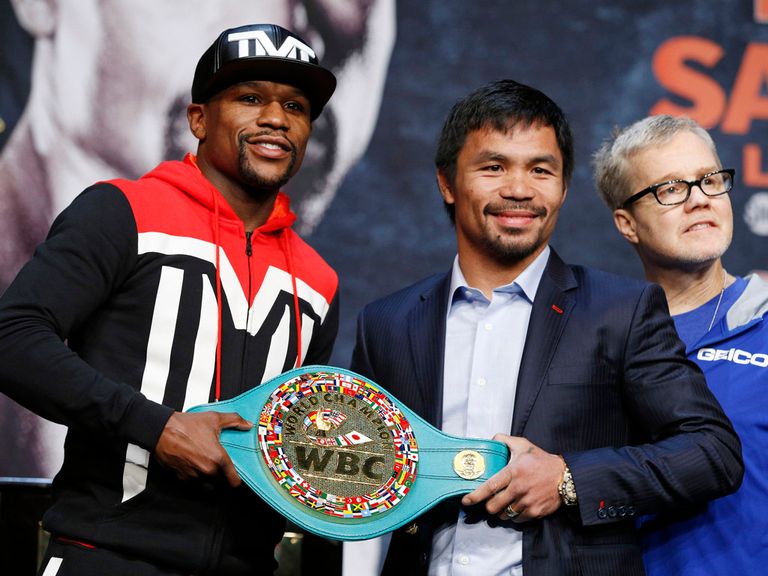 Mayweather has proved, throughout his career, to be better than his rivals. He is currently in superb condition and ready to box like there is no tomorrow. It's his signature way of fighting that has allowed him to be able to garner so many achievements, since he began boxing.
Mayweather Started at a Young Age
For those of you who are not aware, this 38-year-old athlete is part of a family of boxers. His father and uncle introduced him to the boxing world at a very young, and so good was his preparation that he was able to reach the top of the boxing sphere in a short period of time.
Of course, to reach the top, he had to go through few struggles, but this made him into the mentally strong person that he currently is.
Floyd's Style Has Worked for Him
There are a lot of individuals who dislike the way this athlete fights, but so far, his style has worked for him. Floyd has mentioned that he performs the way he feels that he should. Hopefully, this boxing match will not turn into a Mike Tyson vs. Evander Holyfields fight, where one of the athletes bites off one of his opponent's ears.
Jokes… Out is it?
Mayweather and Pacquiao Are More Than Ready to Rumble
We will have to wait to see what occurs on Saturday. It has already been reported that Mayweather and Pacquiao have just arrived in Las Vegas and are concentrating for this upcoming boxing match that is already causing commotion around the globe among people of all ages and backgrounds.
Mayweather is odds-on to keep his unbeaten record as he's the overwhelming favourite among Sky Bet's customers, but the pundits believes Pacquiao will pull off an upset in Las Vegas this weekend.
Mayweather comes into this game having won all 47 of his previous fights at this level, but he is a man who knows what defeat looks like as he suffered six of those as an amateur boxer.
For Pacquiao, he has been beaten five times in his 64 professional fights and has a knockout percent of 59.
As far as the profits, Mayweather will receive 60-pecent of the $300m fighting purse, with Pacquiao earning 40-percent.
Also on the boxing fighting cards on Saturday
Fighting on the undercard as well are:
Vasyl Lomachenko (Ukraine) v Gamalier Rodriguez (Puerto Rico)
Léo Santa Cruz (Mexico) v Anthony Settoul (France)
Jesse Hart (USA) v Mike Jimenez (USA)
Chris Pearson (USA) v Said El Harrak (Morocco)
Andrew Tabiti (USA) v Brian Holstein (USA)
Brad Solomon (USA) v Adrian Granados (Mexico)
Below are a few key places and channels showing the fight on premium from the MGM Grand Garden Arena in Las Vegas, according to the Guardian.
UK – £19.95 on Sky Sports (£24.95 if you buy on the night) or £14.95 on TalkTalk
United States – $100 (£64.90) on Showtime and HBO
Australia – A$59.95 (£31.31) on Main Event
Canada – CAD$94.99 (£51.40) on Shaw
Colombia – free on RCN
China – free on CCTV5
Dubai – free on DU
France – free on MCS
Germany – €20 (£14.41 ) on Sky
Mexico – free on Televisa and Azteca
New Zealand – NZ$49.99 (£25) on Sky Arena
South Africa – free on SuperSport
Spain – €12 (£8.65) on Taquilla PPV and Marca
Thailand – free on Channel7