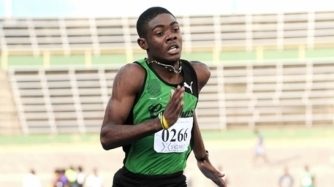 KINGSTON, Jamaica (Sporting Alert) — Calabar High star quarter-miler Christopher Taylor cruised into the semifinal round of the Class Two Boys' 400m at the 2015 Boys' and Girls' Jamaica High School Championships here at the National Stadium on Tuesday.
Taylor, who won the Class 3 event last year, posted a time of 47.25 seconds after getting off to a fast start and then took his foot off the gas in the home straight to clock the best time of the day.
Keco Morrison of Morant Bay High was second to him in the preliminary heat in 49.87 secs.
Taylor's heat winning time is just outside the championships record mark of 46.64, set by Devaughn Baker of Jamaica College in 2013, but his personal best of 45.69 at the Carifta Games trials three weeks ago makes him the firm favourite to shatter that standard later during the meet.
Meanwhile, Anthony Carpenter, also of Calabar, won heat 2 of the event in 48.34 seconds to be the second fastest performer of the first round, with Tyreke Bryan of Kingston College (KC) running 49.63 to win his heat and qualify third fastest.
In action in Class One, KC's Tywayne Crooks crossed the finish line in 47.23 seconds to win his heat and qualify quickest from the opening rounds.
Joining him into the next round is his teammate Akeem Bloomfield, who ran 48.16 to take first place in heat 1 and the fourth best time on the day.
Shawndail McLaren of Jamaica College came home in 48.10 seconds, the second best time in the round, with Terry Thomas from Greater Portmore earning the third fastest, at 48.12.
Medal favourite Nathon Allen of St. Jago ran home in 48.22 and his school mate Martin Manley also earned his place in the semis with a time of 48.23.
Also booking a place into the next round were Renado Wilson of (Calabar, 48.20), Aykeeme Francis (Calabar, 48.50) Romario Williams (Muschett, 48.20), Fabian Murry (Munro, 48.33), Caniggia Harriott (Munro, 48.41), Devaughn Ellington (Petersfield, 48.37) and Jordon Scott (Petersfield, 48.60).
In 400m action on the girls' side in Class Two, Taqece Duggan of Hydel High ran the fastest time for her age group at 55.75, while Edwin Allen's pair of Janiel Moore (56.20) and Shannon Kalawan (56.43) both earning their spots.
Dawnalee Loney of Camperdown High ran the fastest time in Class One for the girls, at 53.56.
Elsewhere, Janeek Brown of Wolmer's posted the joint fastest time in the Class 2 girls' 100m hurdles.
The defending champion clocked 13.82 seconds to win her heat, the same time as Trishauna Hemmings of Glengoffe High, who won the fourth and final heat.
Safiya Thompson of (St. Jago, 13.92), Patrice Moody (Edwin Allen, 13.89), Sidney Marshall (Manchester, 13.93) and Nicolee Foster (Holmwood Technical, 14.29) all made it through as some of the top qualifiers on the opening day at the National Stadium in Kingston.
In other early meet qualifying events, Obrien Wasome of Jamaica College leads all qualifiers in the Class One Boys' Long Jump with a mark of 7.54m, as six jumpers went over the seven-metre mark on Tuesday.
Calabar's Jullane Walker (6.84m) and Travis Riley (6.82m) each went beyond the automatic qualifying standard of 6.80m, while Odaine Lewis (7.13m) and Alrick Ottey (7.12m), both of Cornwall College and JC's Ajani James (7.12m) also went over seven-metres.